Learn how to calculate the true cost of wine.
Understanding the true cost of your wine can be a daunting experience. It's also one that you must get right if you expect to run a profitable business.
The Costing Book Checklist Course gives you step-by-step instructions on how to assemble the costing book.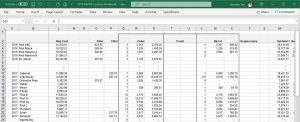 The Costing Book is an Excel Workbook that uses the figures in QuickBooks (or any accounting program) so that the total costs match QuickBooks. There are many different "costing books" but what makes this one unique is that it ties to the Balance Sheet. This is the only way to confirm that you have calculated the cost correctly.
This course is designed for non-accounting professionals and for accounting professionals who are new to the wine industry. The only qualification is that you have to be comfortable with Excel, but the formulas are straightforward (there are just a lot of them).
What is in the course:
The Overview – How to calculate the True Cost of your wine
What is a costing pool? Barrel-gallon?
What expenses should be allocated to winemaking
How to lay out the costing book using 3 sample wineries
How to quickly estimate a wine you are considering selling
True Cost (GAAP) versus Tax Cost
Over 2 hours of lessons, broken into easy-to-digest lessons
The Checklists – What to do step-by-step to update the costing book
Ten checklists for each phase of the costing book with accompanying videos
Based on the checklists we use for our clients
How to layout the depreciation schedule
How to calculate the finished wine
Support & other information
How to calculate the blends
Forum to ask questions
Recorded Q&A sessions
Lifetime access
You will do many of the steps in this process once a year, so it is easy to forget how to do them. So with Lifetime Access, you can revisit the lessons every year. Also, winemaking tends to get more complicated as a winery grows. You might not need all of the lessons today, but you will need them in a few years.
Here is a sneak preview of the costing book
Invest in your winery by learning how to calculate the true cost of wine.
The cost for the course is $897.
You will have access to all lessons immediately
If you are an owner or an office manager who will not be updating the costing book, you may purchase the overview lesson.
How to Calculate the True Cost of your wine for $297.
Access the course CLICK HERE